Long Time, Imerman Update
I know you missed me, though I've been very busy working on some neat projects...sorry, I won't let it happen again!
Shamrock Shuffle
This year I'm running the 8k for Imerman Angels, which is one of the largest cancer survivor networks in the world.  We raised $1,058 is about 48 hours.  Thank you all for your support (specially Mom :).  Because it was too easy, I've increased my goal to $1,500, which should be a breeze.

MSU Speed Networking in East Lansing
I had an opportunity to get back to East Lansing earlier this month for MSU Speed Networking, which turned out being a huge success at Spartan Stadium.  With over 250 students and professionals, each student was paired up with a professional for exactly 5 minutes to learn about professions and career goals.  While the students had breaks, I had to go straight through with no breaks for about 3 hours.  That said, it was refreshing to see so many students with driven and ambitious career goals.  Quite different from my days at State! :)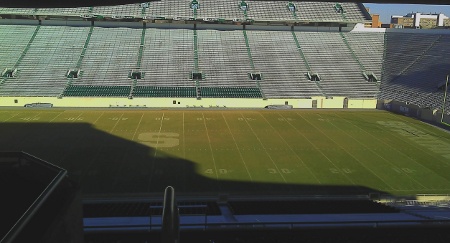 Social Tech Pop
As we continue to grow our audience, STP has recently gained some serious momentum in the social media scene.  We have been featured in some major news outlets and have some great events planned for this summer...stay tuned.
ITA | Speaking of Success Featuring GrubHub.com
I had a chance to chat with Mike Evans of GrubHub at Rock the Recession late last year.  Now he's being featured at the Illinois Technology Association's Speaking of Success series highlighting Chicago-based tech companies that have grown successfully and transformed their markets in the process. GrubHub.com Co-Founders, Matt Maloney & Mike Evans will speak on April 13, 2011.